RMC Feb 2021 Newsletter
February 2021 RMC Newsletter

February 3, 2021 – PDF version
Welcome to the third edition of RMC's newsletter! We are thrilled to share our new electronic communication with you to give you a snapshot of RMC's work. In this monthly newsletter, we will provide project spotlights, news on recently approved projects, updates on active projects and our Joint Powers Authority activities. We will also share any events, funding opportunities, as well as announcements.
A Message from RMC's Executive Officer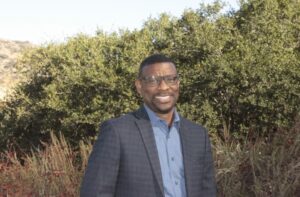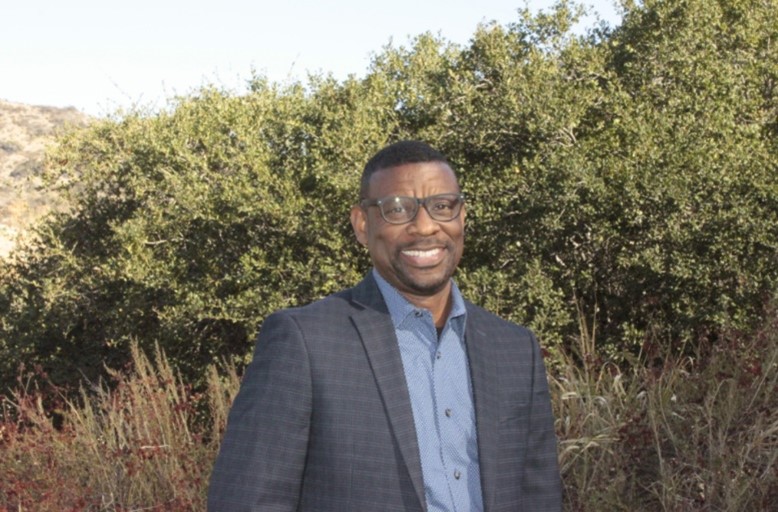 For those of you celebrating the Lunar New Year, I want to welcome you once again to 2021! Happy Year of the Ox! The Ox is a valued animal because of its role in agriculture and positive characteristics such as being hardworking and honest.
As we enter this year's Black History Month it does feel like a new year witnessing last month's Presidential Inauguration. So many historic firsts and proud moments for our nation. Notably having former U.S. Senator Harris (D-CA) become the first South Asian and African American woman Vice President of the United States. Statewide and locally, we want to give a shout out to Dr. Shirley Weber who became the first Black Secretary of State for California and Holly Mitchell as the new Los Angeles County Board of Supervisor of District Two, making it an all-female LA County Board of Supervisors for the first time in history. This is so timely as we celebrate black history this month to acknowledge the significant achievements of African Americans in our country.
In the coming months we will be focused on prioritizing projects for approval before the RMC Board, continue to coordinate the design of the Southeast Los Angeles Cultural Center, work towards implementation of a River Ranger Program for the LA River, and continue to be a resource of information for our partners towards an effort to expand the territory of the RMC through State legislation, AB 78 (O'Donnell). It is exciting to see and walk the trails completed by the Watershed Conservation Authority, our JPA with Los Angeles County Flood Control District, along the Antonovich Trail as it weaves its way through the City of San Dimas and Los Angeles County land. Last, but certainly not least, the Los Cerritos Wetlands Authority Board of Directors, RMC's JPA with the Cities of Long Beach, Seal Beach and California State Coastal Conservancy, approved certification of the Program Environmental Impact Report for the Los Cerritos Wetlands, a major step towards future restoration of Southern California's coastal wetlands.
Most recently, the RMC's Proposition 68 competitive grant deadline closed on January 13th. We received 26 grant applications for our Regionwide Program, resulting in a total grant request of over $67.5 million dollars. We know that there is an increase in need, perpetuated even further by the COVID-19 pandemic. We recognize the need is great and funding is not abundant, however we look forward to the challenge and doing our part to provide funding for projects through the RMC's 1,400 square mile territory.
I continue to be inspired by the words of Frederick Douglass, the Great Emancipator, who was born in the month of February, the year 1818 in Talbot County Maryland, one county over from the birthplace of my ancestors. Like many of my ancestors, he escaped slavery, and knew the value of education and the struggle to achieve it. Douglass once said, "If this is no struggle, there is no progress…."  This quote is a great reminder of the work that we strive to accomplish on a daily basis. As a leader of RMC, I look to furthering our mission in providing opportunities to preserve open space and habitat protection, provide for low-impact recreation, watershed improvements, and give light to education. Along with this is an effort to distribute our funds equitably and be a voice for areas of greater need. We encourage opportunities to partner, engage and listen, because it is through partnerships that we are able to accomplish so much together.
Be Safe,
Mark
Project Highlight Honoring Contributions of African Americans:
Willowbrook Walking Path & Carver Park
 Did you know that there is a walking path that has been recently completed in the Willowbrook community? The walking path begins at 118th Street, adjacent to the Compton Creek and includes a 0.6-mile urban health and fitness loop trail with connections to George Washington Carver Park, the Watts Willowbrook Boys and Girls Club, and Carver Elementary School.  The trail is adjacent to the Compton Creek, near the Willowbrook community and is within walking distance of Martin Luther King Jr. Hospital.
Carver Park is named after George Washington Carver, a scientist who was born into slavery in Missouri around 1864 and went on to become one of the most prominent scientist and inventors of his time. Carver devised over 100 products using the peanut including dyes, plastics, and gasoline. Aside from these agricultural and technological inventions, he was also an accomplished musician, artist, orator, and athletic trainer. Carver was so educated and innovative that he was sought after for advice, even advising President Theodore Roosevelt (26th US President) on matters of agriculture as well as Indian leader Mahatma Gandhi on matters of agriculture and nutrition.
A Carver quote one can live by: "It is not the style of clothes one wears, neither the kind of automobile one drives, nor the amount of money one has in the bank, that counts. These things mean nothing. It is simply service that measures success."
This project was constructed by local youth members of the LACC, which created jobs, as well as the opportunity for the crew members to gain valuable experience that led them into Construction Specialist positions while working on this project, a job that entails more responsibility and commensurate compensation.
Improvements along the Creek include: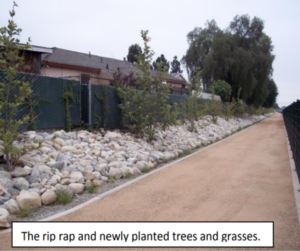 New Paving- 13,725 sq.ft color to match Urban Trail at Carver Park
Permeable decomposed granite path
Ornamental gates
New river rock rip rap swale
Shade trees and irrigation
New riparian grasses and irrigation
Educational signage and standing mileage markers
The RMC is a proud funding partner that contributed to the development of this trail, which was constructed by the Los Angeles Conservation Corps, in collaboration with the County of Los Angeles Department of Parks and Recreation and Public Works. Additional funds were received  from the State Coastal Conservancy, and the 2nd Supervisorial District. The trail was completed in 2020 and is frequently used by local residents including the fitness equipment at Carver Park.
Banna Park
The RMC congratulates the City of Covina on the completion of Banna Park, a new 2-acre park partially funded from RMC's Proposition 68 allocation in the amount of $1 Million.  Proposition 68 is the California Drought, Water, Parks Climate, Coastal Protection and Outdoor Access for All Act of 2018. The RMC's grant funded the development of a walking trail, nature inspired playground, exercise equipment, and an outdoor education space amongst other public amenities. This new park is a welcome addition to the City of Covina's public park space, a conversion of a vacant lot into a long-awaited community resource.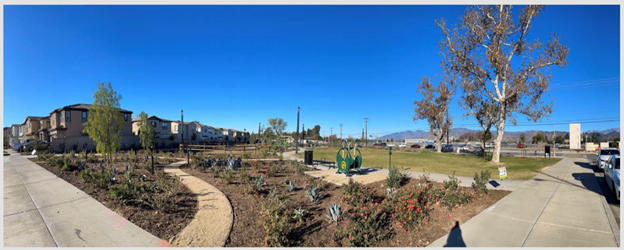 Central Jefferson High School Green Alleys' Multi-Benefit Stormwater Project
What's in an alley? The Jefferson High School Green Alleys project will develop 11 alleys in Historic South-Central Los Angeles into safer sustainable greenways. RMC is providing Proposition 1 funds in the amount of $645,362. The project is spearheaded by Trust for Public Land (TPL), a non-profit organization, and includes stormwater capture elements, most obvious will be permeable pavement. Other elements include lighting and pedestrian safety features, native landscaping and public art. This project is very unique in that it will convert these alleys into a welcoming public space that the community can feel safer using, while also addressing climate change by removing impermeable concrete, planting a variety of native plants where none currently exist, and a cooling the area along with enhancing aesthetics. The project is currently in the community outreach and design phase with strong involvement from community residents. This project is a partnership between TPL, The City of Los Angeles Bureau of Sanitation and Public Works, and the local community residents that have been very engaged during the design phase. The Office of Los Angeles City Councilmember Curren Price (9th District) provides additional matching funds to this project.
WATERSHED CONSERVATION AUTHORITY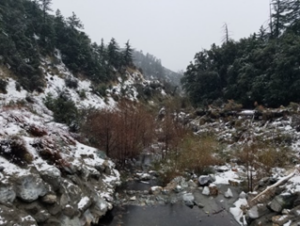 The Watershed Conservation Authority's Mt Baldy Preserve Become Winter Wonderland
This past week's storms have blessed our region with white gold in the form of snow in our mountains.  Our rangers took these snowy photos this weekend while out on patrol highlighting just how beautiful the changing seasons of our Mt Baldy Wilderness Preserve can be this time of year.  Come spring the snow will melt providing a much-needed water source for the flora and fauna of the area, as well as, flowing water that will feed San Antonio Creek before reaching San Antonio Dam at the end of the canyon and entering Chino Creek, a tributary of the Santa Ana River.
The Watershed Conservation Authority acquired the 230+ acres of Mt Baldy Wilderness property to protect significant natural and scenic resources that support a diverse range of wildlife, habitat, and public trails and ensures critical wildlife corridors and landscape connections to the expansive adjacent public lands of the Angeles National Forest in perpetuity.  Located off Mt Baldy Road, in Los Angeles and San Bernardino Counties, the property forms a junction between the Sheep Mountain Wilderness, Cucamonga Wilderness and the San Dimas Experimental Forest, all of which are considered vital habitat areas within the Angeles and San Bernardino National Forests.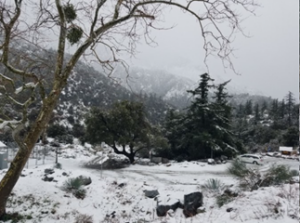 Mt Baldy Wilderness Preserve features an array of sensitive environments, including riparian corridors, pine forest and chaparral that cover the lower slopes, which provide habitat for a rich diversity of wildlife, including Nelson bighorn sheep, deer, coyotes, bears, mountain lions, as well as rainbow and brown trout. The Preserve, open to the public sunrise to sunset, is rustic with currently very limited public amenities.
LOS CERRITOS WETLANDS AUTHORITY
Los Cerritos Wetlands Stewardship Program was established in 2009 to involve the public with the restoration and conservation of the Los Cerritos Wetlands. Over 500 public programs with over 7,500 participants have been hosted at the wetlands with the partnership of the Aquarium of the Pacific, Los Cerritos Wetlands Land Trust, and El Dorado Audubon Society. These organizations provide hundreds of hours of in-kind services each year for community-based restoration programs planting native plants and removing invasive plants from LCWA's Zedler Marsh, and for citizen science projects like the San Gabriel River Sea Turtle Monitoring Program. These organizations also secure tens of thousands of dollars in funding for public programs on LCWA land each year.
The Aquarium of the Pacific's Sea Turtle Monitoring Citizen Science Program at the Los Cerritos Wetlands enables citizens to collect important baseline data and see first-hand the connection between a charismatic and endangered marine species, the Los Cerritos Wetlands, the ocean, and our urban influence. Originally funded by the Aquarium of the Pacific's Marine Conservation Research Institute, the program now consists of more than 60 citizen science volunteers. The program has been collecting data since October 2012. The goal of the program is to improve estimates of the total number of individuals and determine areas most highly frequented in order to better understand the population dynamics of Pacific green sea turtles in the San Gabriel River, while simultaneously inspiring citizens to consider our connection to this endangered species throughout our watersheds. Find out more here:
https://www.aquariumofpacific.org/conservation/sea_turtle_monitoring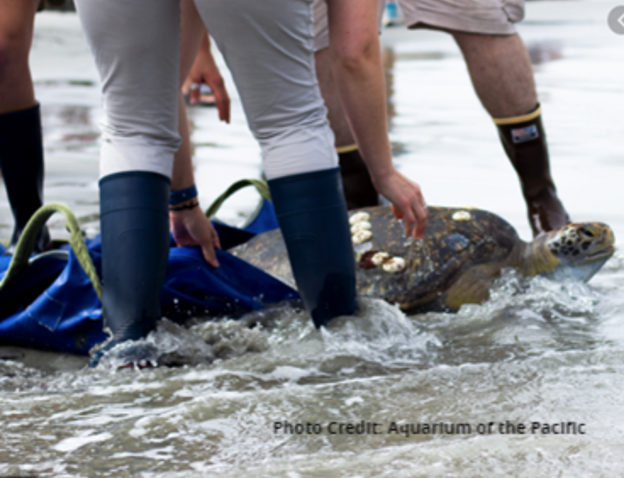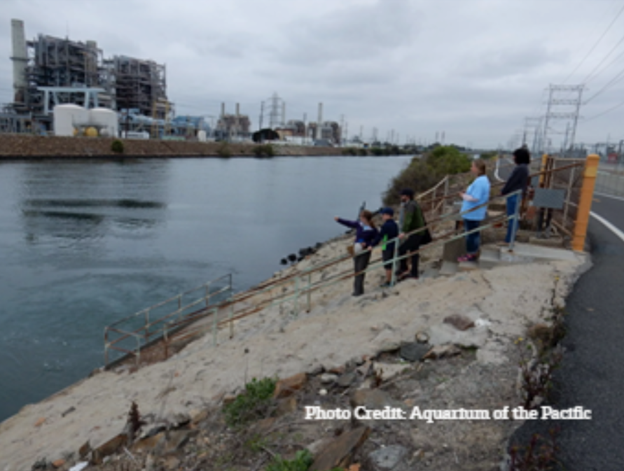 Grant Opportunities for Parks and Open Space 
Statewide Park Program (SPP) – Round Four:

This competitive program will create new parks and new recreation opportunities in underserved, park-poor communities across California
March 12, 2021 Application Deadline
$395.3 million available statewide

RMC Regionwide Prop 68 Grants

Grants to preserve and enhance open space and habitat and provide for low-impact recreation and educational uses.
Small (< $300,000) and Very Small (< $50,000) grants available
Round 2 awards anticipated to be announced Summer 2021

RMC Lower LA River Prop 1 and 68

Over $30 million available for projects along the Lower LA River that support the Lower LA River Revitalization Plan from each Proposition
More information on RMC grants at: https://rmc.ca.gov/grants/
LA River Master Plan
Public Comments Through March 14, 2021!
The Los Angeles County River Master Plan draft is LIVE and Los Angeles County Public Works wants your feedback. Check it out at: http://www.larivermasterplan.org/
The Los Angeles River flows through a 51-mile connected public open space and serves as an integral part of daily life in Los Angeles County. The LA River Master Plan is an update of the LA County 1996 LA River Master Plan, which serves as a template for future projects throughout the river corridor.
Additionally, the LA River Master Plan update incorporates and builds on the 2018 Lower LA River Revitalization Plan's that identities over 155 project opportunity sites projects, 4 signature projects, community stabilization toolkit, and other resources. The plan addresses flood risk, equitable access, healthy ecosystems, arts and culture, impacts to affordable housing, engagement, and local water supply and quality.
The 60-Day comment period for the LA Master Plan is open through March 14, 2021. Submit your comments today!