RMC April Newsletter
April 2021 RMC Newsletter

April 5, 2021
Welcome to the fifth edition of RMC's newsletter! We are thrilled to share our new electronic communication with you to give you a snapshot of RMC's work. In this monthly newsletter, we will provide project spotlights, news on recently approved projects, updates on active projects and our Joint Powers Authority activities. We will also share any events, funding opportunities, as well as announcements.
A Message from RMC's Executive Officer
It's Spring! We welcome the warmer weather, smells, sights, and sounds of Spring. The month of April brings us Earth Day. This year marks the 51th year of Earth Day, which represents the birth of the modern environmental movement that began in 1970. Earth Day is officially on April 22, but it is celebrated throughout the month with a variety of events including lectures, community action days, clean ups, and many others events to remind us to be good to the land. But, you know, at the RMC we believe you should not only celebrate Earth Day on April 22, but everyday. This can be achieved by making environmentally-friendly lifestyle choices throughout the year in order to make a positive impact in our communities and around the world.
Along the lines of being good stewards to each other. The Rivers and Mountains Conservancy and Watershed Conservation Authority stand with our Asian American community against all acts of hate and violence. Many Asian Americans throughout Los Angeles and Orange County region and around the nation have been unjustly blamed for causing the pandemic and are targeted for discriminatory treatment, hostility, and violence. The horrific Atlanta mass shooting that killed eight people, including six Asian women was an act of hate and has many within the Asian American community feeling very scare, worried, and angry. It must end! We will remain committed to addressing issues of social and environmental justice and will continue to work with our partners to support investments for the people in our high need communities. We celebrate our very diverse staff, and their dedication to ensuring participation and balance treatment in our effort. We know there is still much to do to create healthier, more equitable and sustainable communities everywhere.
Finally, I want to thank the cities and NGOs that applied to the RMC's Regionwide and Lower LA River Proposition 68 Call for Projects. RMC is in the process of reviewing those grant applications and will be making recommendations for grants in its Spring Board meeting, so please stay tuned. More information can be found on RMC's website: www.rmc.ca.gov. Thank you for your continued support, and we look forward to seeing you outside!
We will see you outside!
Be Safe and Well,
Mark
Basset High School Project
Bassett High School is located in the City of La Puente, in the San Gabriel River sub watershed. La Puente is highly urbanized with predominately impervious grey infrastructure everywhere which impairs groundwater infiltration and recharge, creating flooding, bad water quality, and contributes to urban heat island effects.  This project, spearheaded by local non-profit Amigos de los Rios, is a high school campus "green infrastructure" retrofit, and includes: trails and educational kiosks, urban habitat, reduced water use on-site, and improved stormwater management.  The project reduced turf grass around edges of the high school's field, replacing it with over 2700 native, drought-tolerant trees and shrubs and creating bioswales and other permeable surface retrofits to collect, capture, and infiltrate stormwater from the campus.  Overall the project supports watershed health and serves as a demonstration for sustainable public landscaping to the region.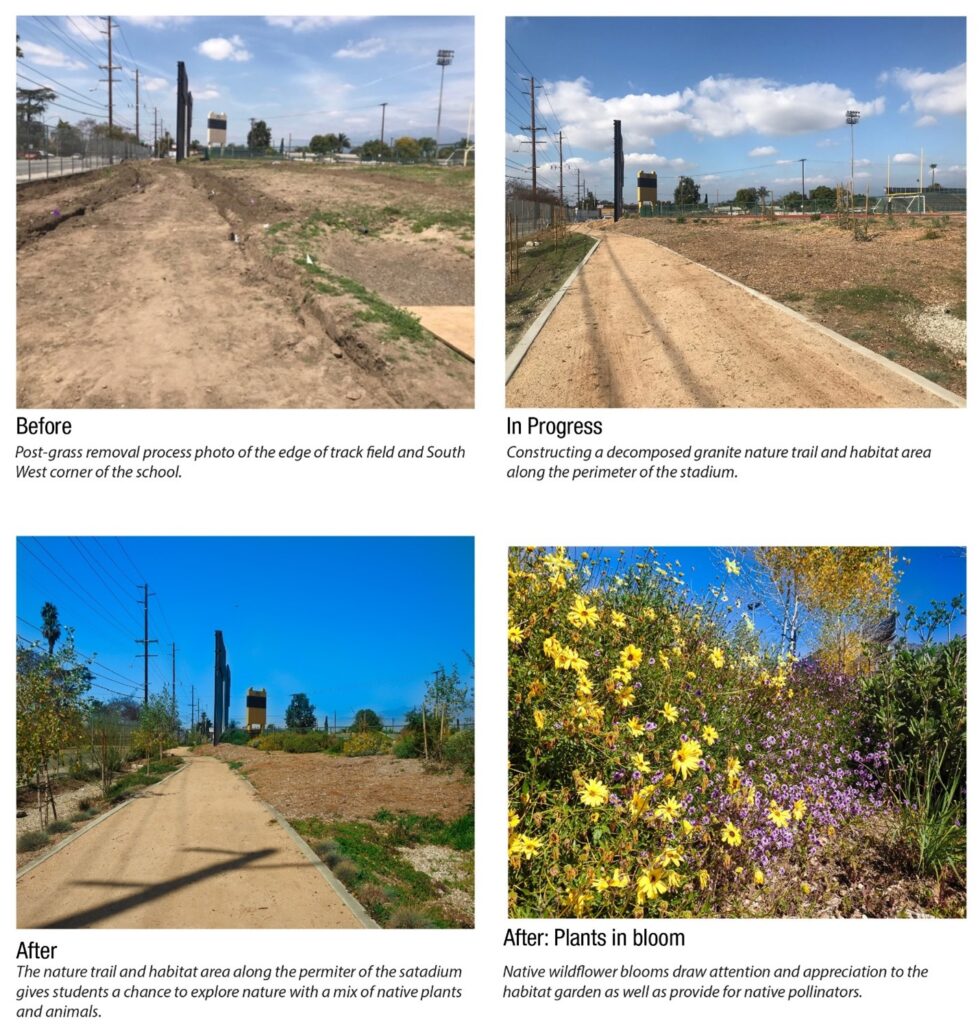 Marybeth Vergara
Project Development Manager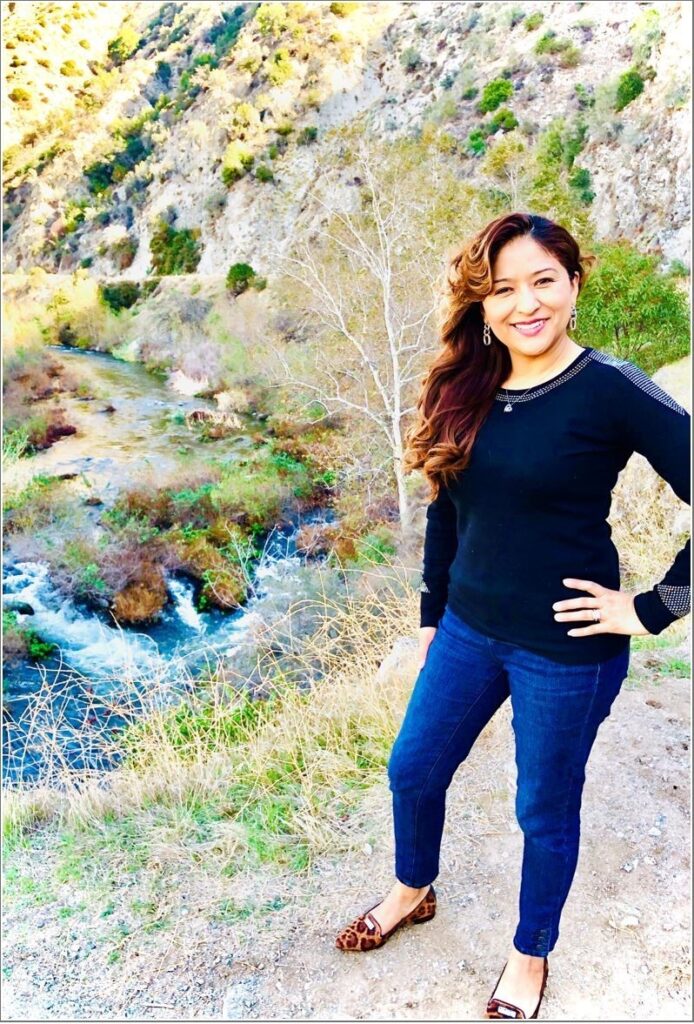 What was your first/favorite experience of nature?-
Growing up, I didn't really go camping or to the snow. My exposure to nature was going to Playa del Rey, sometimes in my dad's station wagon, sometimes on the bus, all the way down Manchester Blvd. We would spend the day there, eat sandwiches for lunch and watermelon in the summertime. I learned to swim at this beach, and have very fond memories of the beach.
What was your first/favorite experience of waterways?
Growing up in South Los Angeles, and going to high school in Downey, I took the bus to school. So during my high school years,  I always passed over the LA River, not knowing that it was a river, and didn't become involved with it until I came to work for the RMC. My first true experience with a waterway, honestly, was swimming in the Rio Grande during the summers while visiting my cousins in Juarez, Mexico. The water was not the cleanest, I once got a fish hook stuck in my toe, so that was painful and didn't leave the best impression of waterways for me.  The other first true river experience was going camping as a young adult to the Kern River in Kern County. Then I knew the potential of a River and what a beautiful and fun river could be.
What are your favorite waterways/open spaces (in WCA/RMC territory)?
The San Gabriel River is my newest favorite bike path and El Encanto is truly a unique place that we have the luxury of having as our office space. The views are amazing and the access to the walking trail is a plus. I credit our weekly walks to keeping us in shape and especially helping me get my walks in during my pregnancies while working at the RMC.
How did you come to enter the environmental field, professionally?
One of my first jobs was working for a consulting firm in Santa Monica that was working against the proposed expansion of LAX International airport.  I learned about the term environmental justice and how communities under the LAX flight path, South LA, Inglewood, and Lennox, bear the brunt by being so close to the flight path for the airport. It was also my introduction into politics and working with elected officials from the local level to the federal level.
What is your favorite part of the work you currently do at WCA/RMC?
Now that I am a mom, my favorite thing to do is to take my daughters to explore the new parks that the RMC has had a role in, whether through direct grants or as part of a larger regional effort, like the work we're doing along the Lower LA River and with other project partners. Seeing projects come to fruition is truly a unique satisfaction and makes our work more meaningful.
What are some of the challenges of doing this work?
Making the connections between the work that we do, and how it impacts people on a daily basis, especially when there are more pressing issues for certain communities.
Multi-tasking and being able to do everything within a certain time frame, which can often be overwhelming.
Also, from a  political perspective, being able to balance the needs of the community vs. elected officials who have knowledge of outside forces impacting project progress.
What is the thing you are most proud of that you can share with us?
I'm proud of the work that we have been able to accomplish as a team, including our JPAs and Conservancy staff. The impact we have on communities is amazing.  I can drive through the Greater LA region, and point to projects that we've funded, or are in the process of funding, and this is so satisfying and makes all of our work worth it.
If there was something you could change about your job, what would it be?
The need in Southern California is so great, especially highlighted during the COVID-19 pandemic. It would be great to have more resources, as well as twice as many staff to do the great work that we do in such a large and diverse region that we cover. The need is so great, but the staff and resources are so limited. But we do what we can, in the best way that we can. In the words of Cesar Chavez, "Si Se Puede!
Anaheim Coves
The eastern boarder of RMC's territory covers a portion of Orange County and the Santa Ana River watershed, including the City of Anaheim. In 2014, the Anaheim Coves/ Burris Pit Park Development project was completed with RMC Prop 40 and Prop 84 funding. The project improved public access along the Santa Ana River via a new trail system and interface with the Burris Basin. The project installed a 1.5mile permeable paved ADA accessible trail connecting to a spur of the Santa Ana River Trail creating a 2.6 mile loop, 2 observation decks, interpretive signage, and staging areas with restrooms among other new public amenities, and restored native vegetation found in the Santa Ana River basin. The RMC staff greatly enjoyed biking along the route a few years ago, we hope you get out to enjoy the trail as well.
WATERSHED CONSERVATION AUTHORITY
Spring Brings Swallows to WCA Parks
As the weather warms, migrating cliff swallows are returning to their old haunts. At the River Wilderness Park, tucked into the mouth of San Gabriel Canyon, masses of Swallows can be seen darting along the river, on the hunt for tasty treats. Swallows typically feed 'on the wing,' — meaning they feast on insects that are also flying low above the water.
Colonies of swallow nests are easy to spot.  They are jug-shaped and made from dried mud, with a small opening for an entrance. At the River Wilderness Park, nests can be found in the overhangs of buildings or under the Highway 39 bridge over the river.
Nests are also a common sight at Parque Dos Rios, another WCA project along the Los Angeles River in South Gate. When construction is complete this Spring, a new overlook area with view scopes will let people observe these birds up close, nesting under the nearby Imperial Highway bridge. Interpretive signs, like the one featured here, help tell the story of these resilient creatures.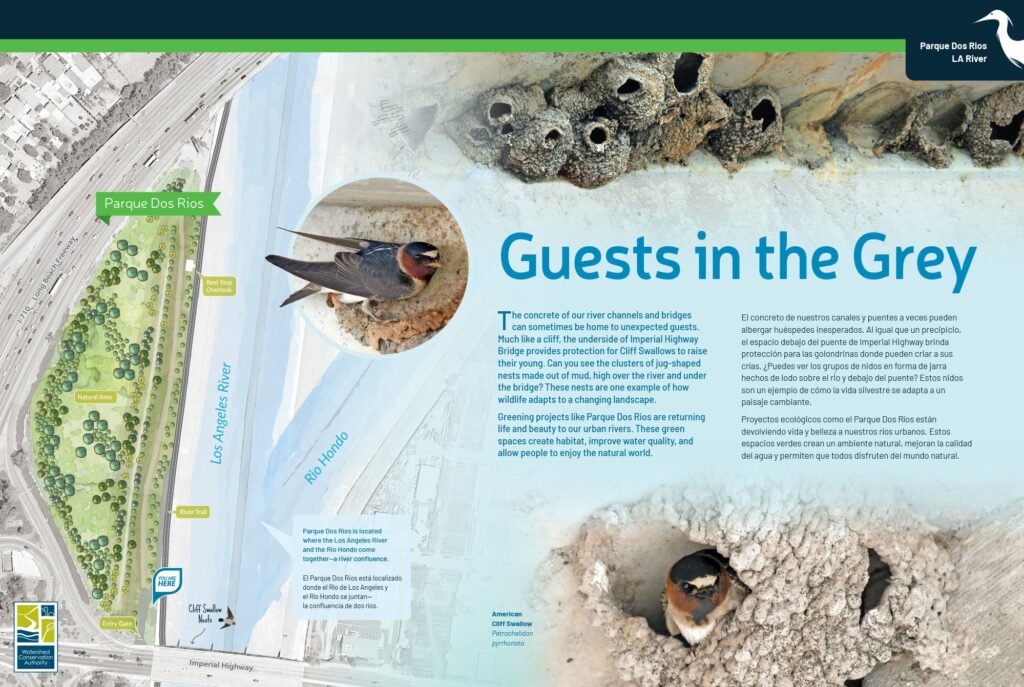 LOS CERRITOS WETLANDS AUTHORITY
Los Alamitos Pump Station
The LCWA runs an onsite native plant nursery to grow locally sourced wetland plants for local restoration projects, thanks to Prop A funding from the LA County Regional Parks and Open Space District. A majority of the plants are grown for restoration at Zedler Marsh and planted with the help of community stewards. Occasionally the nursery is used to grow plants for mitigation projects in the Los Cerritos Wetlands Complex, one such project is the Los Alamitos Pump Station Mitigation Project.
In 2014, the LCWA was contracted by Orange County Public Works to implement a 1.43 acre wetlands and upland transition habitat mitigation and monitoring program to mitigate for the construction of the pump station at the Los Alamitos Retarding Basin. A mix of container plants from the nursery and hand seeding was used to restore the site. Plant communities such as mulefat and salt bush scrub, alkali meadow, and southern coastal salt marsh plants were planted in the upland habitat. Freshwater marsh, mule fat scrub, and coastal sage scrub plant communities were planted in the basin habitat. After five years of monitoring and management, the mitigation site is thriving with up to 87.2% of native plant cover across the site.  Additional information can be found at HERE.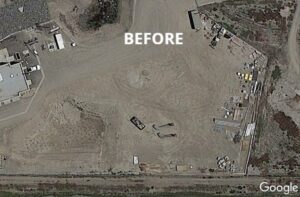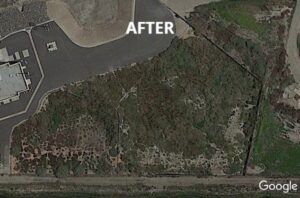 Grant Opportunities for Parks and Open Space 
RMC Regionwide Prop 68 Grants

Grants to preserve and enhance open space and habitat and provide for low-impact recreation and educational uses.
Small (< $300,000) and Very Small (< $50,000) grants available
Round 2 awards anticipated to be announced Summer 2021

RMC Lower LA River Prop 1 and 68

Over $30 million available for projects along the Lower LA River that support the Lower LA River Revitalization Plan from each Proposition
More information on RMC grants at: https://rmc.ca.gov/grants/
LA River Master Plan
Public Comments Extended Through May 13, 2021!
The Los Angeles County River Master Plan draft is LIVE and Los Angeles County Public Works wants your feedback. Check it out at: http://www.larivermasterplan.org/. There have been several LA River Master Plan review events and discussions hosted by members of the LA River Master Plan Advisory Committee.
Save the Date for one more taking place on April 21, 2021 from 12-1 pm. The review session will focus on specific design elements of the Draft Master Plan and will be hosted by Studio MLA, Urban Land Institute, Architectural Institute of America (AIA) and others. Stay tuned for more information or contact us for more information.
The Los Angeles River flows through a 51-mile connected public open space and serves as an integral part of daily life in Los Angeles County. The LA River Master Plan is an update of the LA County 1996 LA River Master Plan, which serves as a template for future projects throughout the river corridor. Additionally, the LA River Master Plan update incorporates and builds on the 2018 Lower LA River Revitalization Plan's 155 opportunity projects, 7 signature projects, community stabilization toolkit, and other resources, and addresses flood risk, equitable access, healthy ecosystems, arts and culture, impacts to affordable housing, engagement, and local water supply and quality.  Submit your comments today!