Virtual LLAR Working Group Reconvening on Dec. 10th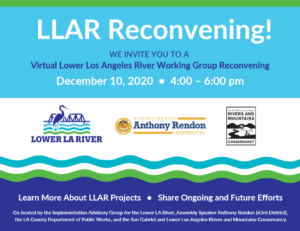 You're invited to a re-convening of the Working Group for the Lower LA River Revitalization Plan (LLARP) on Thursday, December 10th, 4:00pm-6:00pm.
This meeting is co-hosted by the Implementation Advisory Group for the Lower LA River, Assembly Speaker Anthony Rendon (63rd District), the LA County Department of Public Works, and the San Gabriel and Lower Los Angeles Rivers and Mountains Conservancy.
From 2016-2018, the Working Group guided development of the LLARP, which describes opportunities for improving the environment and life quality for residents, as well as ensures that the voice of the residents are heard as the river is reimagined and revitalized into an integral part of the community. Now, many important and exciting projects are planned or underway along the river corridor and within adjacent communities.
Join us at this reconvening to learn more about these projects, and to share your thoughts about ongoing and new efforts to improve the LLAR corridor and communities. The meeting will be highly interactive among all participants.
Should you have any questions about the LLAR Reconvening, please contact Marybeth Vergara at mvergara@rmc.ca.gov or Suely Saro at ssaro@rmc.ca.gov.
Sincerely,
RMC
RSVP HERE FOR THE LLAR RECONVENING!