Partners
INTRODUCTION
The RMC's territory contains a large number of governmental and non-governmental organizations. The RMC has both formal and informal partnerships with many of these organizations and these partnerships cover a range from very close to casual. Because these partnerships are so complex, we've attempted to bring some clarity to them here.
Elected Officials includes the Los Angeles County Board of Supervisors, Orange County Board of Supervisors, California Assembly, California Senate, California Governor, U.S. House of  Representatives, and U.S. Senate. These institutions all have significant funding, legislative and regulatory impacts on the RMC.
Cities are the seventy-nine cities in the RMCs territory.
Others (all of the other partners) is a complex mix with whom the RMC has complex relations.
The other partners consist of government agencies (federal, state, and local), coordinating organizations, businesses, and nonprofit organizations (national, state, and local).
The relationships between the RMC and these other partners involve the RMC's mission and the partners' functions (some of these partners are listed at bottom of the page). The RMC's mission statement includes the categories of Open Space and Habitat, Water, and Education. Partners include: 
regulators includes only governmental organizations,
funders includes only funders of other organizations,
planners includes only planners for more than one community,
operators includes only operators of regional facilities, and
stakeholders includes only those which have none of the other functions
In an attempt to explain the RMC's relationships with these other partners, subsets of these other partners are listed in three categories:
ELECTED OFFICIALS
We have not attempted to list individual elected officials who represent the RMC; there are too many. Instead, the following list of links will let you search for, or directly link you to, the websites of individual elected officials.
CITIES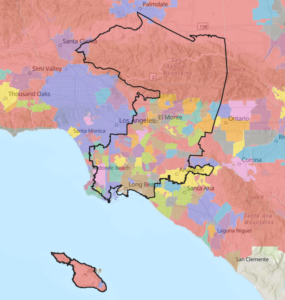 The seventy-nine in the RMC are listed below. There are, in addition, about 21 unincorporated communities in the RMC.
LA County Cities within RMC Boundary: Alhambra, Arcadia, Artesia, Azusa, Baldwin Park, Bell, Bellflower, Bell Gardens. Bradbury, Carson, Cerritos, Claremont, Commerce, Compton, Covina, Cudahy, Diamond Bar, Downey, Duarte, El Monte, Gardena, Glendora, Harbor City, Hawaiian Gardens, Hawthorne, Huntington Park, Industry, Inglewood*, Irwindale, La Habra Heights, La Mirada, La Puente, La Verne, Lakewood, Lawndale, Lomita, Long Beach, Los Angeles*, Lynwood, Maywood, Monrovia, Montebello, Monterey Park, Norwalk, Palmdale *, Paramount, Pasadena *, Pico Rivera, Pomona, Rolling Hills Estates, Rosemead, San Dimas, San Gabriel, San Marino, San Pedro, Santa Clarita *, Santa Fe Springs, Sierra Madre, Signal Hill, South El Monte, South Gate, South Pasadena *, Torrance, Temple City, Vernon, Walnut, West Covina, Wilmington and Whittier.
Orange County Cities within RMC Boundary:  Anaheim, Brea, Buena Park, Cypress, Fullerton, La Habra, La Palma, Los Alamitos, Placentia, and Seal Beach.
* Only portions of the cities of Inglewood, Los Angeles, Palmdale, Pasadena, Santa Clarita, and South Pasadena are in the RMC area
** More info on cities and about the physical geography of the greater Los Angeles area can be found here
RMC'S OTHER PARTNERS
FEDERAL AGENCIES

STATE AGENCIES

COUNTY AGENCIES

OTHER LOCAL GOVERNMENTAL AGENCIES

UNIVERSITIES

BUSINESSES

COORDINATING ORGANIZATIONS

STATE & NATIONAL NONPROFITS

LOCAL NONPROFITS