Territory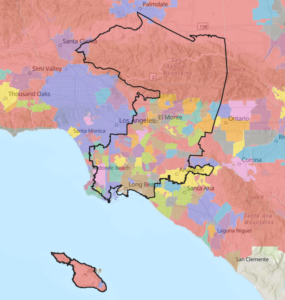 A space photo (from NASA) of the greater Los Angeles area to the right shows the physical geography of the greater Los Angeles area. The major surface features are indicated in the photo. Some of the other features of the region are described below.
The Antelope Valley is the west end of the Mojave Desert.) The San Gabriel Mountains, which rise to over 10,000 ft., include Angeles National Forest. A major portion of the forest (which contains two wilderness areas) lies within the RMC's area. The San Andreas Fault separates the Antelope Valley and the San Gabriel Mountains.
South of the San Gabriel Mountains is the highly urbanized Los Angeles megalopolis, which fills the San Fernando and San Gabriel Valleys and the Coastal Plan. The foothills of the San Gabriels and the lower mountains and hills south of the San Gabriels contain most of the remaining open space in this urban area. This open space is threatened by development driven by California's population growth of 400,000 per year. A wildlife corridor in the Puente-Chino Hills provides a connection from Cleveland National Forest (off the map to the right) to the San Gabriel River, which in turn provides a connection to Angeles National Forest. This corridor is under development threat.
The enormous shipping complex of the Los Angeles and Long Beach Harbors lies to the right of the Palos Verdes Peninsula. The RMC's coastline includes Long Beach Harbor, the 1,000 acre Seal Beach National Wildlife Refuge, and a few, smaller wetlands threatened by development such as the Los Cerritos Wetlands which is also being restored.
As shown in the photo map, the RMC includes all or part of four rivers: the mostly concrete-lined Los Angeles River, the partially-contained San Gabriel and Santa Ana Rivers, and the free-flowing Santa Clara River. There are flood control reservoirs on all but the Santa Clara River. Because flooding is infrequent, regional parks have been created inside these reservoirs.
Two neighboring conservancies (shown on the map below), the Santa Monica Mountains Conservancy and the Baldwin Hills Conservancy, lie to the west of the RMC.
Check Out Our Interactive Map with Regional Information
CITIES
The seventy-nine cities in the RMC are listed below. There are, in addition, about 21 unincorporated communities in the RMC.
* Only portions of the cities of Los Angeles, Palmdale, Pasadena, Santa Clarita, and South Pasadena in LA County and Anaheim, Brea, and Placentia in Orange County are in the RMC area.
** More info on cities and other RMC partners can be found here